Current Affairs May 2021 pdf
1. Operation Samudra Setu-II
Indian Navy has launched Operation Samudra Setu-II for shipment of Oxygen-filled containers to India.
Operation Samudra Setu was launched in May 2020 as part of the national effort to repatriate Indian citizens from overseas during the Covid-19 pandemic.
Key Points:
It was launched along with Vande Bharat Mission (VBM). VBM is the biggest civilian evacuation exercise to bring back Indian citizens stranded abroad amidst the coronavirus-induced travel restrictions.
It has surpassed the large-scale airlift of 1,77,000 people in 1990 at the onset of the Gulf War.
Operation Samudra Setu-II deployed for shipment of liquid medical oxygen-filled cryogenic containers and associated medical equipment from various countries.
The government launched the VBM in early May last year to evacuate Indians stranded abroad due to travel restrictions from the Covid-19 pandemic. 6.76 million Indians brought back through Vande Bharat Mission.
---
2. India-UK Enhanced Trade Partnership
Indian Prime Minister and the Prime Minister of the United Kingdom have held a Virtual Summit.
The Roadmap 2030 was launched during the summit. The Road map aims to elevate India-UK ties to a 'Comprehensive Strategic Partnership' by 2030.
The Roadmap will pave the way for expanding and deepening India-UK cooperation over the next decade. The road map focuses on five key areas. Such as people-to-people relationships, trade, and prosperity, defense and security, climate action, and healthcare.
Enhanced Trade Partnership(ETP) was launched to bring out the true trade potential between India and UK. It has also set an ambitious target of more than doubling bilateral trade by 2030.
Enhanced Trade Partnership (ETP) is expected to pave the way for a future Free Trade Agreement (FTA).
A free trade agreement is a pact between two or more nations to reduce barriers to imports and exports among them. Under a free trade policy, goods and services can be bought and sold across international borders with little or no government tariffs
---
3. ECLGS 4.0: Govt extends emergency credit scheme for MSMEs
ECLGS 4.0 will enhance the utility and impact of ECLGS by providing additional support to MSMEs.
It will safeguard livelihoods.
It will help in the resumption of business activity.
It will facilitate the flow of institutional credit at reasonable terms.
Emergency Credit Line Guarantee Scheme (ECLGS): ECLGS was launched under Atmanirbhar Bharat Abhiyan in May 2020. To overcome the distress caused by the economy due to lockdown.
Credit was provided to them for four years besides one year moratorium period on principled repayment.
---
4. YUVA Scheme for Young Writers
Recently, the Indian Prime Minister announced the 'Young, Upcoming and Versatile Authors' (YUVA) scheme – a mentorship program to train young authors.
The scheme is aimed at training 75 aspiring writers below 30 years, who are ready to express themselves and project India and its culture and literature globally.
A total of 75 authors will be selected through an All India Contest at MyGov (Government of India's Citizen Engagement Platform).
A consolidated scholarship of Rs. 50,000 per month for a period of six months per author will be paid under the mentorship scheme.
Implementing Agency: The National Book Trust (under the Ministry of Education) will ensure phase-wise execution of the Scheme.
---
5. Renaming of Indian Broadcasting Foundation (IBF)
The Indian Broadcasting Foundation (IBF) will be renamed the Indian Broadcasting and Digital Foundation (IBDF).
IBF is the apex body of broadcasters.
It is now expanding its purview to cover digital streaming platforms.
An over-the-top (OTT) media service is a media service offered directly to viewers via the Internet. OTT bypasses cable, broadcast, and satellite television platforms.
Such as Netflix, Amazon Prime Video, Hotstar, etc.
---
6. NASA's Curiosity photographs clouds on Mars
Most clouds on the Red planet hover at about 37 miles (60 kilometers) or lower in the sky, and are composed of water ice. The latest capture by Curiosity shows the clouds at a higher altitude, where it is very cold.
NASA Curiosity Mission: The Curiosity is the largest and most capable rover ever sent to Mars. It landed on Mars in August 2012. The purpose of the mission is to find chemical and mineral evidence of past habitable environments on Mars.
---
7. SpaceX launches 60 Starlink Broadband Satellites
Elon Musk's aerospace company, SpaceX, launched 60 Starlink Broadband Satellites with Falcon 9 first stage booster into orbit.
Satellites were launched from Space Launch Complex 40 in Florida.
Starlinks is a satellite internet constellation, constructed by SpaceX, providing satellite Internet access. Constellation comprise of thousands of mass-produced small satellites in low Earth orbit (LEO).
---
8. E-Way Bill Integration with FASTag, RFID
The Union Government has integrated the E- Way Bill (EWB) system with FasTag and RFID.
E-Way Bill is usually a unique bill number generated for the specific consignment involving the movement of goods.
Under the Goods and Services Tax (GST) regime, EWBs are mandatory for inter-state transportation of goods valued over Rs. 50,000 from April 2018, with the exemption to precious items such as gold.
Significance of Integration:
Live Vigilance: The integration of EWB, RFID, and FASTag will enable tax officers to undertake live vigilance in respect of EWB compliances by businesses.
---
Important One Line Current Affairs May 2021
The Indian scientist who has been awarded the Energy Frontiers Award 2020 by the Rome based multinational oil and gas company

The global nutrition expert who has been chosen for the 2021 World Food Prize for trailblazing research on small native fish species in Bangladesh

Answer: Dr Shakuntala Haraksingh Thilsted

The IPS officer of the 1985 batch who has been appointed the Director of Central Bureau of Investigation

Answer: Shri Subodh Kumar Jaiswal

The contestant from Mexico who has been crowned Miss Universe 2020

The severe cyclonic storm of the Arabian Sea which caused heavy rainfall in Kerala, Karnataka, Goa, Maharashtra, and Gujarat and also caused loss of lives and property was named

The severe cyclonic storm which arose in the Bay of Bengal and made landfall in Odisha caused the destruction of crops in Odisha, West Bengal, and Jharkhand was named

Book by Ravi Shastri?

Answer: Star Gazing – The Players in My Life
---
About Sundarlal Bahuguna
Bahuguna, who died with Covid-19 aged 94, was known the world over as the man who taught Indians to hug trees to protect the environment. He was one of the main leaders of the Chipko movement in northern India in the 1970s. In Hindi, chipko literally means "hugging".
Born: 9 January 1927; Passed away: 21 May 2021.
Noted Indian environmentalist and Chipko movement leader.
Awards:
1981: Padma Shri Award
1987: Right Livelihood Award (Chipko Movement)
1986: Jamnalal Bajaj Award for constructive work.
2009: Padma Vibhushan Award
Books Written:
India's Environment: Myth & Reality
Dharti Ki Pukar (Hindi)
---
IMPORTANT TERM OF THE MONTH
Ambitag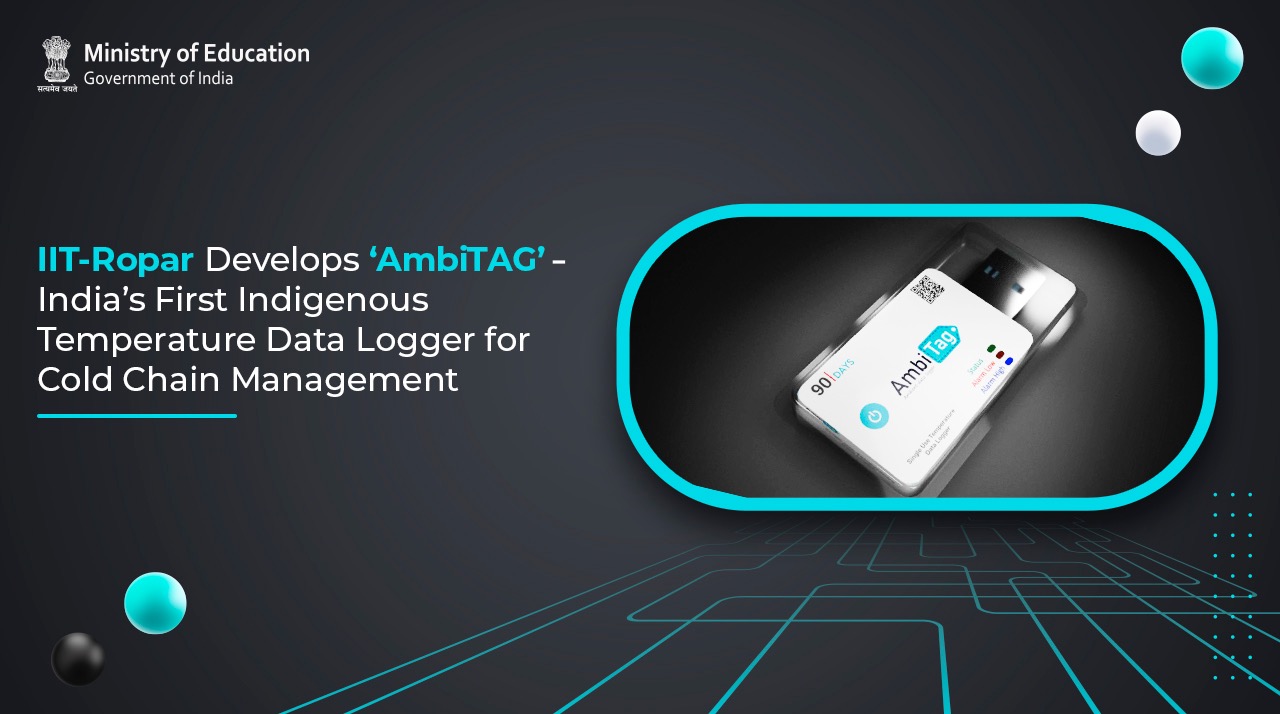 Indian Institute of Technology (IIT) Ropar, Punjab has developed a first-of-its-kind IoT (Internet of Things) device – AmbiTag that records real-time ambient temperature during the transportation of perishable products, vaccines, and even body organs and blood.
The device has been developed under Technology Innovation Hub – AWaDH (Agriculture and Water Technology Development Hub) and its Startup ScratchNest.
About AmbiTAG:
This is shaped like a USB (Universal Serial Bus) device.
It continuously records the temperature of its immediate surroundings from -40 to +80 degrees in any time zone for a full 90 days on a single charge.
It generates an alert when the temperature goes beyond a pre-set limit.